ELLIOTT-HARTMAN AGENCY EARNS
LEADERSHIP CIRCLE
STATUS WITH INTEGRITY INSURANCE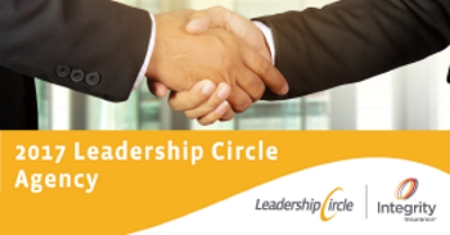 Waterloo, IA (Mar. 30, 2017) — Integrity Insurance, a property and casualty carrier, is proud to announce Elliott-Hartman Agency earned a spot in the 2017 Leadership Circle, which honors the top-tier of agencies for their work in 2016. To achieve Leadership Circle status, Elliott-Hartman Agency met specific criteria based on premium, profitability and growth.
Integrity President Jill Wagner Kelly stated, "Elliott-Hartman Agency is among the best of the best. They are a strong partner who is committed to providing top-notch service and expertise to policyholders. It's a pleasure to see them thrive and write profitable business with Integrity."
Elliott-Hartman Agency is located at 611 Ansborough Avenue. For more information on their services, visit www.elliotthartman.com.
ABOUT ELLIOTT-HARTMAN AGENCY
At Elliott-Harman Agency, we're an independent agency with a highly trained staff – working to provide you the quality service you deserve. Our doors opened in Waterloo in 1959 and we have since expanded our services providing home, auto, business and truck insurance to Waterloo, Iowa and surrounding states. We specialize in property and casualty insurance for businesses and individuals.
Our experienced staff is here for the sole purpose of helping our customers effectively and efficiently manages risks. We do this by not only providing insurance coverage to fit your needs, but with ongoing support, training, and risk management
ABOUT INTEGRITY INSURANCE
Integrity Insurance established in 1933 is based in Appleton, WI. Integrity offers auto, home and business insurance through a network of independent agents throughout IA, MN and WI. With an affiliate partner Grange Insurance based in Columbus, OH — the enterprise has $2 billion in assets and $1 billion in annual revenue and holds an AM Best rating of "A" Excellent. For more information, visit IntegrityInsurance.com.